The 6th International Conference on Hydraulic and Civil Engineering (ICHCE 2020)
Website URL: http://www.ichce.org/
Start Date / End Date: December 11-13,2020
Location: Xi'an University of Technology
Submission Deadline: November 09, 2020
1.About the conference:
The 6th International Conference on Hydraulic and Civil Engineering (ICHCE 2020) will be hosted by Shaanxi Society of Geotechnical Mechanics and Xijing University, co-organized Hohai University, Xi 'an University of Technology, Anhui Jianzhu University and Chongqing Jiaotong University. The conference will be held from December 11th to 13th, 2020 at Xi 'an China. It mainly focuses on the research fields of water conservancy and civil engineering, and is dedicated to provide the experts, scholars, engineers, etc. from different colleges and universities, research institutes, enterprises and institutions from home and abroad, with an academic platform for sharing of academic research findings, exploration of the cutting-edge engineering issues and discussion on the current opportunities and challenges, in a concerted effort to promote international cooperation and communication and the industrialization of scientific research results. Scholars from home and abroad are warmly welcomed to contribute and participate in the conference!
2.Publication
Conference Proceedings
All accepted full papers will be published in IOP Conference Series: Earth and Environmental Science (EES)(Online ISSN: 1755-1315 Print ISSN: 1755-1307) and will be submitted to Ei Compendex, Scopus for indexing.EI retrieval of this journal is very stable.
Paper template:Template.rar
Journals
Some excellent papers will be recommended to the SCI journals till a certain amount reached(Send to mailbox ICHCE2019@163.com and note: SCI)
(1)Journal of Civil Engineering and Management(ISSN: 1392-3730, IF=2.338, 正刊)
(2)KSCE Journal of Civil Engineering(ISSN: 1976-3808, IF=1.515, 正刊)
(3)Water Science and Technology-Water Supply(ISSN: 1606-9749, IF=0.9, 正刊)
* The deadline for submission of SCI papers is December 11, 2020, with each submission no less than 10 pages.Expenses specified.
Core journal of Peking University
Submit to Core journal of Peking University
3.Important Dates
Submission Deadline:November 09, 2020
Notification Date: 1 week after submission
Registration Deadline:December 11, 2020
Conference Date:December 11-13, 2020
4.Submission Methods
2020 6th International Conference on Hydraulic and Civil Engineering (ICHCE 2020) accepts original and unpublished papers.
Download:
Please submit your papers as the following instructions:
1. Please send your paper to SUBMISSION SYSTEM
2. The paper needs translation, please send to the email ICHCE2019@163.com.
3. Foreign authors please send your papers to the ICHCE2019@163.com.
4. Manuscript length should be 4 pages.
(authors will be charged extra 50 USD/page if the manuscript length is more than 6 pages)

Note:
1) Papers submitted to the conference should be in English.
2) Both Abstract and Full Paper are welcomed. The author can make an oral presentation after the Abstract is accepted and the payment is finished.
3) All submitted articles should report original, previously unpublished research results, experimental or theoretical. Articles submitted to the conference should meet these criteria and must not be under consideration for publication elsewhere. We firmly believe that ethical conduct is the most essential virtual of any academic. Hence any act of plagiarism is a totally unacceptable academic misconduct and cannot be tolerated.
5.Call For Papers
The 5th International Conference on Hydraulic and Civil Engineering (ICHCE 2020) accepts original and unpublished papers. The papers may include but are not limited to:
Conference theme:"The Belt and Road", Innovation and cooperation in Hydraulic and Civil Engineering
(1)Water Project水利工程
(2)Civil Engineering土木工程
(3)Geotechnical Engineering岩土、地质工程
(4)Traffic and Bridge Engineering交通、桥梁工程
(5)Disaster Prevention and Mitigation and Protection Engineering防灾减灾及防护工程
(6)other related topics其他相关主题
Conference SCI theme:
(1)Journal of Civil Engineering and Management(ISSN: 1392-3730, IF=2.338, 正刊)
(2)KSCE Journal of Civil Engineering(ISSN: 1976-3808, IF=1.515, 正刊)
(3)Water Science and Technology-Water Supply(ISSN: 1606-9749, IF=0.9, 正刊)
6.Registration
Items

Registration fee

(RMB)

Registration fee

(By US Dollar)

Regular Registration (4-6 pages)

3000RMB

450 USD/per paper

Additional Paper (Students)

2800 RMB

420 USD/ per paper

Extra Pages (Begin at Page 7)

300 RMB

50 USD/ per extra page

Attendees without Papers

1200 RMB

180 USD / per person

Attendees without Papers (Groups)

1000 RMB

150 USD / per person

(≥ 3 persons)

Purchase Extra Journal(加购论文集)

500 RMB

75 USD/book
7.Schedule
Schedule

December 11

10:00-18:00

Registration

December 12

08:00-12:00

Speeches of Keynote Speakers

12:00-14:00

Lunch

14:00-17:30

Oral Presentations

18:00-19:30

Banquet

December 13

08:30-12:00

Oral Presentations

12:00-14:00

Lunch

14:00-17:30

Academic Investigation

18:00-19:30

Banquet
8.Contact Us
Conference Secretary: Ms. Lin
The official website:http://www.ichce.org/
E-mail: ichce2019@163.com
Tel: +86-18102545612 (Wechat)
QQ:2578989287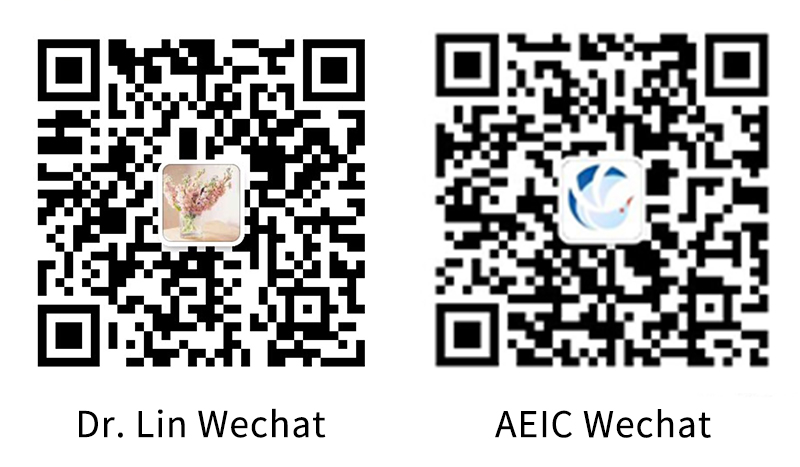 Wechat Public Number

Telephone: 020-28101036

Email: contact@keoaeic.org

Time: 09:00-20:00

Address: 57 Zhongshan 1st Road, Yuexiu District, Guangzhou
AEIC Academic Exchange Information Centre All rights reserved
Copyright©2009-2018 All rights reserved