2021 International Conference on Computer Network Security and Software Engineering(CNSSE 2021)
Conference Information:
Website :http://www.cnsse.org/
Conference Date:February 26-28, 2021
Venue : Zhuhai, China
Submission Deadline : December 28, 2020
Indexing :EI Compendex/Scopus/SCI
The 2021 International Conference on Computer Network Security and Software Engineering will be held on February 26-28,2021. CNSSE 2021 focuses on Computer network security、Software engineering、Signal processing、Program analysis and so on. This conference aims to boost development of the Greater Bay Area, expand channels of international academic exchange in science and technology, build a sharing platform of academic resources, promote scientific innovation on the global scale, improve academic cooperation between China and the outside world, enhance development of IAB (IT, AI, biomedicine) industries. It also aims to encourage exchange of information on research frontiers in different fields, connect the most advanced academic resources in China and abroad, turn research results into industrial solutions, bring together talents, technologies and capital to boost development.
1. Call for Paper
The topics of interest for submission include, but are not limited to:
1. Computer network security
2. Software engineering
3. Signal processing
4. Program analysis
5. Other related topics
2.Publication
*All papers, both invited and contributed, will be reviewed by two or three experts from the committees. After a careful reviewing process, all accepted papers of ICETIS 2021 will be published and indexed by EI compendex、Scopus.
*High quality papers will be recommended for publication in SCI journal.
1) Journal of Imaging Science and Technology(ISSN:1062-3701,IF=0.379)
2) COMPUTINGAND INFORMATICS(ISSN:1335-9150,IF=0.421)
3) International Journal of Distributed Sensor Networks(ISSN: 1550-1477,IF=1.151)
All submissions must not be less than 10 pages in length,and papers should be submitted to service@keoaeic.org and noted "CNSSE 2021".
3.Submission Methods
1.The submitted papers must not be under consideration elsewhere.
2.Please send the full paper(word+ pdf) to SUBMISSION SYSTEM
3.Please submit the full paper, if presentation and publication are both needed.
4.Please submit the abstract only, if you just want to make presentations.
5.Should you have any questions, or you need any materials in English, please contact us at contact@cnsse.org.
4.Registration
For the publication on CNSSE 2021 conference proceedings:
| | | |
| --- | --- | --- |
| Items | Registration fee (By RMB) | Registration fee (By US Dollar) |
| Regular Registration (6 pages) | 3200RMB/per paper | 450 USD/per paper |
| Manuscript numbers ≥ 3 | 2900RMB/per paper | 430 USD/ per paper |
| Extra Pages (Begin at Page 7) | 300RMB/per extra page | 50 USD/ per extra page |
| Attendees without Papers | 1200RMB/per person | 180 USD / per person |
| Attendees without Papers (Groups) | 1000RMB/per person(≥ 3 persons) | 150 USD / per person(≥ 3 persons) |
| Purchase Extra Journal | 500RMB/book | 75 USD/book |
5.Program
Time

Schedule

February 26, 2021

13:00-17:00

Registration

February 27, 2021

09:00-12:00

Speeches of Keynote Speakers

12:00-14:00

Lunch

14:00-17:30

Oral Presentations

18:00-19:30

Banquet

February 28, 2021

09:00-18:00

Academic Investigation
6.Contact Us
Conference Secretary: Chelsea Yu
E-mail: contact@cnsse.org
Tel: +86-13902493194
(Wechat)QQ: 702466064
QQ group:756283866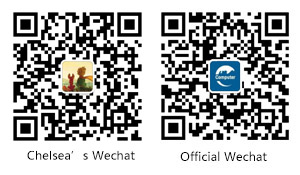 Wechat Public Number

Telephone: 020-28101036

Email: contact@keoaeic.org

Time: 09:00-20:00

Address: 57 Zhongshan 1st Road, Yuexiu District, Guangzhou
AEIC Academic Exchange Information Centre All rights reserved
Copyright©2009-2018 All rights reserved