2020 International Conference on Material Chemistry and Composite Materials (MCCM2020)
CONFERENCE INFORMATION:
Website:http://www.meeting-mccm.org/
Conference Date:November 13-15, 2020
Venue:Guilin, China
Submission Deadline:November 6, 2020
Indexing:EI/Scopus/SCI
2020 International Conference on Material Chemistry and Composite Materials(MCCM 2020)will be held on November 13-15, 2020 in Guilin, China. MCCM 2020 dedicates to create a platform for academic communications between specialists and scholars in the fields of Composite Materials and Material Chemistry. The conference will create a path to establish a research relation for the authors and listeners with opportunities for collaboration and networking among the universities and institutions for promoting research and developing technologies.
We cordially invite you to submit paper and attend MCCM 2020. Looking forward to your participation!
1.Organizers
2. Guest structure
Conference Chair
Prof. King-Chuen Lin
National Taiwan University, China
Keynote speakers
Prof. King-Chuen Lin

National Taiwan University, China

Prof. Kung-Chung Hsu

National Taiwan Normal

University,China

Dr. Evan K. Wujcik

University of Alabama, USA




Prof. Sergei Alexandrov

Beihang University, China;

Ton Duc Thang University,

Vietnam
Prof. Jui-Ming Yeh
Chung Yuan Christian University
Academic Committee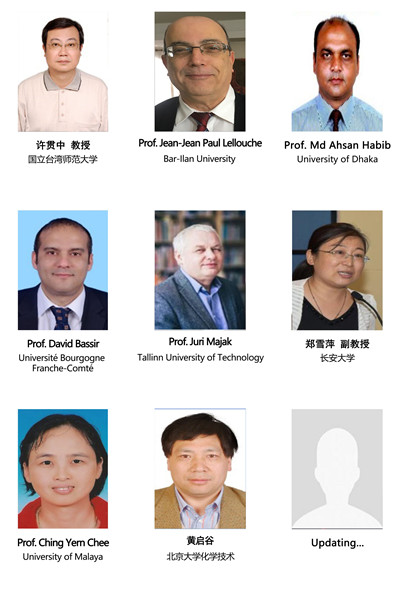 3.CALL FOR PAPER
The topics of interest for submission include, but are not limited to:
1)Electrocatalytic material
2)Environmental catalytic materials
3)Metallic materials
4)Biomaterial chemistry
5)Energy materials
6)New energy materials
7)Ceramic material
8)Functional materials
9)Crystal material
10)Film material
11)Adsorption material
12)Polymer material
13)Organic chemical materials
14)Nanomaterials chemistry
15)Soft material chemistry
16)Structural chemistry
17)Energy storage battery
18)Material corrosion
19)Advanced composite materials
20)Composite structure design
21)Performance characterization and evaluation of composite materials
22)Composite application
23)Composite material manufacturing process
24)Sustainable development of composite materials
And other related topics
4.Publication
1.EIAll accepted full papers will be published in IOP Conference Series: Earth and Environmental Science (EES) (Online ISSN: 1755-1315 Print ISSN: 1755-1307) and will be submitted to EI Compendex / Scopus for indexing.
*paper template(Download),No less than 4 pages.
*Only English manuscripts will be accepted. If you need translation service, please send the Chinese manuscripts directly to the conference email.(contact_mccm@163.com)
2. SCI journal(Submission with notes of conference acronyms will enjoy priority in review and acceptance.)
*High quality papers will be recommended for publication in below SCI journals.
【Journal 1】: High Temperature Materials and Processes (ISSN: 0334-6455, IF=0.427)
【Journal 2】: Mechanics of Composite Materials (ISSN: 0191-5665, IF=0.7)
【Journal 3】: Reviews on Advanced Materials Science(ISSN:1606-5131,IF=1.8)
* Please submit your origin papers to Online submission 【AIS online submission】and note 【MCCM 2020】.
* For more information about SCI papers and journals, please feel free to contact Editor Li(WeChat/Mobile phone): 18127812811 or Editor Lin(WeChat/Mobile phone): 13922157504.
5.Submission Methods
1.The submitted papers must not be under consideration elsewhere.
2.Please send the full paper(word+pdf) to SUBMISSION SYSTEM
3.Please submit the full paper, if presentation and publication are both needed.
4.Please submit the abstract only, if you just want to make presentations.
5.Should you have any questions, or you need any materials in English, please contact us at contact_mccm@163.com
6.Registration
For the publication on MCCM 2020 conference proceedings:
| | | |
| --- | --- | --- |
| Item | Registration fee (By RMB) | Registration fee (By US Dollar) |
| Paper Publication+Presentation+Attendance | 3000RMB/per paper (4 pages) | 450 USD/per paper (4 pages) |
| Additional Paper Publication | 2800RMB/per paper (4 pages) | 430 USD/ per paper (4 pages) |
| Extra Pages (Begin at Page 5) | 300RMB/per extra page | 50 USD/ per extra page |
| Presentation+Attendance | 1500RMB/per person | 250USD/per person |
| Attendance Only | 1200RMB/per person | 180 USD / per person |
| Attendees without Submission (Groups) | 1000RMB/per person(≥ 3 persons) | 150 USD / per person(≥ 3 persons) |
7.Program
Schedule

November 13

13:00-17:00

Registration

November 14

09:00-12:00

Speeches of Keynote Speakers

12:00-14:00

Lunch

14:00-17:30

Oral Presentations

18:00-19:30

Banquet

November 15

09:00-18:00

Academic Investigation
CONTACT US
Conference Secretary: Hailey Dong
E-mail: contact_mccm@163.com
Tel: +86-17320189207 (Wechat)
QQ: 2640905300
Wechat Public Number

Telephone: 020-28101036

Email: contact@keoaeic.org

Time: 09:00-20:00

Address: 57 Zhongshan 1st Road, Yuexiu District, Guangzhou
AEIC Academic Exchange Information Centre All rights reserved
Copyright©2009-2018 All rights reserved