The 2020 5th International Conference on Humanities Science, Management and Education Technology (HSMET2020)
Website: http://www.hsmet.net/
Start Date / End Date: June 12-14, 2020
Location: Kuala Lumpur, Malaysia
Submission Deadline: April. 10, 2020
About the conference: 
The 2020 5th International Conference on Humanities Science, Management and Education Technology (HSMET 2020) will be held on June 12-14, 2020 in Kuala Lumpur. HSMET 2020 is to bring together innovative academics and industrial experts in the field of humanities Science, management and education technology to a common forum. The primary goal is to promote scientific information interchange between researchers, developers, engineers, students, and practitioners working all around the world. We warmly invite you to participate in HSMET2020 and look forward to seeing you in Kuala Lumpur!
Publication

All papers of HSMET2020 will be published in the volume of Advances in Social Science, Education and Humanities Research(Online ISSN: 2352-5398), which will be indexed by CPCI-SSH and CNKI for indexing.
Atlantis-Template
Note:
* All conference proceedings paper must not be less than 4 pages in length!
* HSMET 2020, as one of organizing conferences of AEIC, its information has been issused on Sciencenet and CNKI.
For more information and detail please visit AEIC homepage. Other services of publication and translation please click.
Important Dates
Submission Deadline: April. 10, 2020
Notification Date:1 weeks after the submission
Conference Date: June 12-14, 2020
Submission Guides
A. Full Paper (for Presentation and Publication)
Accepted full paper will be invited to give the oral presentation at the conference and be publsihed in the conference proceedings.
B. Abstract (Presentation only)
Accepted abstract will be invited to give the oral presentation at the conference, the presentation will not be published.
C. Manuscript Template (Download)
*All submissions must not be less than 4 pages in length.
(authors will be charged extra 40 USD/page if the manuscript length is more than 4 pages)
D.Submission Methods
Please send the full paper & abstract to AIS Submission System.
Note:
1) Papers submitted to the conference could be in English or Chinese.
2) Both Abstract and Full Paper are welcomed. The author can make an oral presentation after the Abstract is accepted and the payment is finished.
3) All submitted articles should report original, previously unpublished research results, experimental or theoretical. Articles submitted to the conference should meet these criteria and must not be under consideration for publication elsewhere. We firmly believe that ethical conduct is the most essential virtual of any academic. Hence any act of plagiarism is a totally unacceptable academic misconduct and cannot be tolerated.
Call For Papers
1. Education science
2. Management Science
3. Social Sciences
4. Culture
5. Law
6. Politics
7. Psychology
8. Other related topics
Registration
| | |
| --- | --- |
| Items | Registration fee (By US Dollar) |
| Regular Registration (4 pages) | 350 USD/per paper |
| Additional Paper (4 pages) | 330 USD/ per paper |
| Extra Pages (Begin at Page 5) | 40 USD/ per extra page |
| Attendees without Papers | 180 USD / per person |
| Attendees without Papers (Groups) | 150 USD / per person(≥ 3 persons) |
| Purchase Extra Journal | 75 USD/book |
Details of the Registration Fees :
1. Registration fees for HSMET 2020 Regular is RMB 2200/USD 350 per paper.
2. If the length of the paper exceeds 4 Pages, the cost of Each Extra Page (begin at Page 5) is RMB 200/USD 40.
3. Registration fees include conference proceedings, lunches, gifts and attending all technical sessions.
4. The registration fee does not include:
• Accommodation
• Visa application fee
• Transportation fee
5. At least one author for each accepted final paper must pre-register.
6. Completed registrations will be acknowledged by the Organizing Committee within 2-5 workdays after receiving your payment.
7. If you cannot attend the conference due to some reasons, we will mail the proceedings and invoice to you.
Schedule
Schedule

June 12

13:00-17:00

Registration

June 13

09:00-12:00

Speeches of Keynote Speakers

12:00-14:00

Lunch

14:00-17:30

Oral Presentations

18:00-19:30

Banquet

June 14

09:00-18:00

Academic Investigation
*A more detailed programme will be emailed to you after registration deadline. Actual schedule arrangement may be different according to participant numbers.
Contact Us
Conference Secretary: Ms. Claire Wang
E-mail: ichsmet@163.com
Cellphone: +86-13922159054
WeChat: 13922159054
Whatsapp: 13640976813
AEIC Website: www.keoaeic.org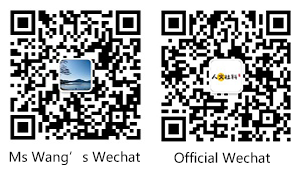 Wechat Public Number

Telephone: 020-28101036

Email: contact@keoaeic.org

Time: 09:00-20:00

Address: 57 Zhongshan 1st Road, Yuexiu District, Guangzhou
AEIC Academic Exchange Information Centre All rights reserved
Copyright©2009-2018 All rights reserved