The 2020 4th International Workshop on Advances in Energy Science and Environment Engineering (AESEE2020)
CONFERENCE INFORMATION:
Website:http://www.aesee.org/
Conference Date:April 10-12, 2020
Venue:Hangzhou, China
Submission Deadline: April 1, 2020
Indexing:EI/Scopus
The 2020 4th International Workshop on Advances in Energy Science and Environment Engineering (AESEE 2020) will be held on April 10-12, 2020 in Hangzhou, China. AESEE 2020 is to bring together innovative academics and industrial experts in the field of workshop on advances in energy scienceand environment engineering to a common forum. The primary goal of the conference is to promote research and developmental activities in workshop on advances in energy science and environment engineering and another goal is to promote scientific information interchange between researchers, developers, engineers, students, and practitioners working all around the world. The conference will be held every year to make it an ideal platform for people to share views and experiences in workshop on advances in energy science and environment engineering and related areas.
AESEE2017 indexing records:CPCI(click),Scopus(click)
AESEE2018 indexing records: CPCI(click) ,Scopus(click)
AESEE2019 indexing records: CPCI(click) ,Scopus(click)
1.Organizers
2. Guest structure
Conference Chair
Local Committees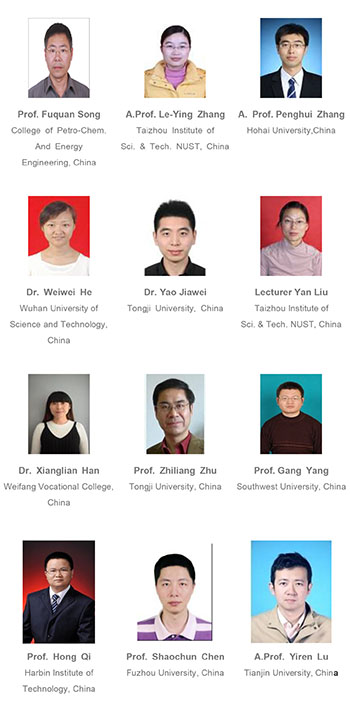 3.CALL FOR PAPER
01) Energy and Environment
02) Traditional Energy Engineering(coal, oil, natural gas, etc. no traditional electrical power)
03) Energy Materials
04) Energy Storage Technology
05) Energy-Saving Technology
06) Energy Chemical Engineering
07) Thermophysics and Thermal Engineering
08) Environmental Materials
09) Environmental Engineering
10) Pollution Control Project (Air, Water, Solid)
11) Clean Production Process
12) Soil and Water Conservation and Desertification Control
13) Mineral Resources and Mining Engineering
14) Oil and Gas Resources Engineering
15) Metallurgical Engineering
16) Machines and Equipments for Resource Processing
17) Hydrology and Water Resources Engineering
18) Ecology and Biodiversity Conservation
19) Environmental Pollution & Management
20) Renewable Energy Sources
21) Energy Policy, Planning & Management
22) Climate Change and Global Warming
23) Environmental Hydraulics
24) Sustainable Development
25) Remote Sensing and Environment
26) Environmental Ergonomics
27) Computational Techniques
28) Air pollution from mobile and stationary sources
29) Climate change
30) Noise and acoustics
31) Electromagnetic waves and telecommunication
32) Hazardous waste and waste treatment
33) Industrial waste treatment
34) Water pollution and treatment
35) Solid waste management
36) Environmental management systems
37) Air pollution control and equipment
38) Pollution prevention in industry
39) Solar electricity and PV applications
40) Solar cell technology, Solar cell materials, testing and efficiency
41) Nanotechnology applications to RE
42) Solar thermal applications
43) Wind energy
44) Hydroelectric, geothermal, tides and waves
45) Biogas and biomass
46) Hybrid energy systems
47) Integrated energy systems
48) Rural electrification
49) Regional issues, economics and policy
50) Advanced Energy Technologies
51) Nuclear Energy: Fission and Fusion
52) Nuclear Energy Application: Power Generation, Desalination
53) Energy From the Space, Dark Energy
54) Fuels and Combustion
55) Emissions from ICE and their control
56) Alternative fuels
57) NG as fuel for rural transportation
58) Hydrogen and fuel cells
59) Hybrid and electric vehicles
60) Bio-diesel fuels
61) Fuel additives
62) Algorithms
63) Artificial Intelligence
4.Publication
All accepted full papers will be published in IOP Conference Series: Earth and Environmental Science (EES)(Online ISSN: 1755-1315 Print ISSN: 1755-1307) and will be submitted to EI Compendex / Scopus for indexing.
SCI
Submission with notes of conference acronyms will enjoy priority in review and acceptance.
Excellent papers will be recommended directly to the following or other suitable SCI journals
◆ Energy Sources Part A-Recovery Utilization and Environmental Effects(ISSN:1556-7036,IF=0.894)
◆ Energies(ISSN: 1996-1073, IF=2.707)
◆ Marine and Petroleum Geology(ISSN: 0264-8172, IF=3.538)
◆ Chemical Physics Letters(ISSN: 0009-2614), IF= 1.86
◆ Submission should be in WORD(.doc)format only, and specified templates will be given after evaluation.

◆ Online submission
【AIS online submission】
For more information about SCI papers and journals, please feel free to contact Editor Li(WeChat/Mobile phone): 18127812811/ Editor Lin(WeChat/Mobile phone): 13922157504.
5.Submission Methods
1.The submitted papers must not be under consideration elsewhere.
2.Please send the full paper(word+pdf) and to AIS Submission System.
3.Please submit the full paper, if presentation and publication are both needed.
4.Please submit the abstract only, if you just want to make presentations.
5.Should you have any questions, or you need any materials in English, please contact us at iwaesee@yeah.net
6.Registration
For the publication on conference proceedings:
| | | |
| --- | --- | --- |
| Items | Registration fee (By RMB) | Registration fee (By US Dollar) |
| Regular Registration(6 pages) | 3000RMB/ per paper | 450 USD/per paper |
| Additional Paper | 2800RMB/ per paper | 430 USD/ per paper |
| Extra Pages (Begin at Page 7) | 300RMB/ per extra page | 50 USD/ per extra page |
| Attendees without Papers | 1200RMB/ per person | 180 USD / per person |
| Attendees without Papers (Groups) | 1000RMB/ per person(≥ 3 persons) | 150 USD / per person(≥ 3 persons) |
7.Program
Schedule

April 10

13:00-17:00

Registration

April 11

09:00-12:00

Speeches of Keynote Speakers

12:00-14:00

Lunch

14:00-17:30

Oral Presentations

18:00-19:30

Banquet

April 12

09:00-18:00

Academic Investigation
CONTACT US
Conference Secretary: Cathy Xiong
E-mail: iwaesee@yeah.net(咨询)
Mobile: +86 13922150140
Tel: +8620-28101036
QQ: 1902225305
Wechat: +86 13922150140
Wechat Public Number

Telephone: 020-28101036

Email: contact@keoaeic.org

Time: 09:00-20:00

Address: 57 Zhongshan 1st Road, Yuexiu District, Guangzhou
AEIC Academic Exchange Information Centre All rights reserved
Copyright©2009-2018 All rights reserved